Spread the happiness
---
Fresh from the frying-pan...
MISTER DODO BONES
"A man with a voice from beyond the grave" Steve Phillips (Notting Hillbillies)
"Stonkin' quirky blues played with terrifying conviction" Deke Leonard (Man, Iceberg)
+++++++++++++++++++++++++++++++++++++++++++++++++
Mister Dodo Bones has enjoyed a wild and varied life in this sometimes-wacky world of music. He was Jack Bentley in The Jack Bentley Blues Band which featured the guitarist Richard Treece (Help Yourself) and co-founded the legendary acid-folk band Moonkyte who released the album Count Me Out. Mister Dodo Bones also played with a variety of well-known blues artists and has been an independent label owner, distributor, and music publisher.
Then there was a brief hiatus from music to concentrate on restoring the lost paintings of his grandad Walter C Foster, 1887-1929.
He has now rekindled his first love, hard-nosed, left-field, blues and country music. The beast within demanded to be heard, and it is being heard. He dusted down his array of guitars, played a few selected solo gigs and then set about recruiting some great musicians.
The fiery Mister Dodo Bones and One-Eyed Jacks were born
+++++++++++++++++++++++++++++++++++++++++++++++++
Mister Dodo Bones - vocals, guitars
Richard Bostock -double bass
Eddie Roll Morton - guitars
Harry Hamer - snare, brushes, cymbals and shakers
Earl Christopher Dawkins - guitars
Geoff Clout - producer, engineer, artwork, etcetera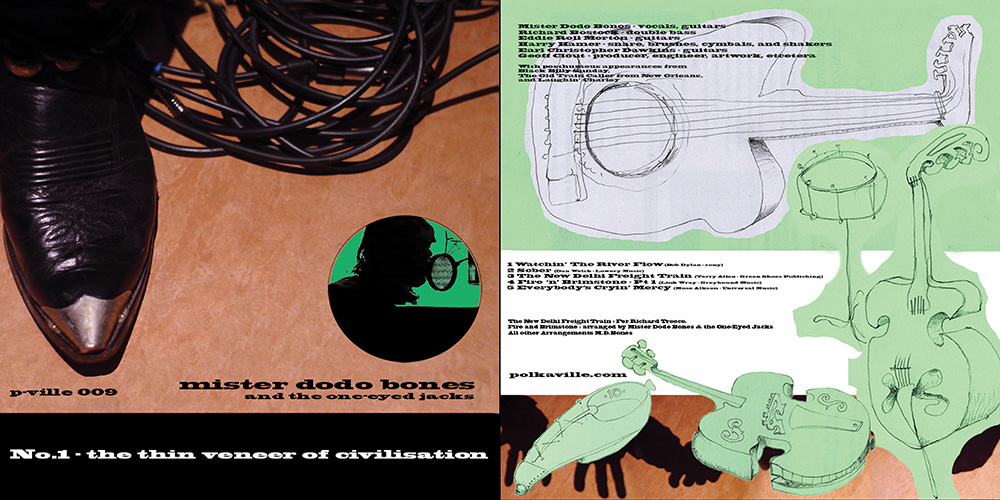 ---
Truists
---